DOUBLE SKIN FULLY INSULATED WALLS
Quickcell's production range has incorporated the first Australian built cold store by using a unique (patented) system that provides structural, architectural and thermal solutions for the construction of concrete structures that have high demands for energy saving.
The system consists of double skin concrete walls. The two skins have been totally separated from each other by means of incorporating a layer of extruded polystyrene which prevents the two layers of concrete from having any thermal connection with each other.
With the cost of energy perpetually increasing, Quickcell believes that buildings with the ability to conserve energy are the answer for the building industry. Structures such as cold stores, housing projects, three story walk ups, projects in remote areas with considerable amount of temperature changes during the day and night, libraries, cinemas and shopping centres could all be built with this system.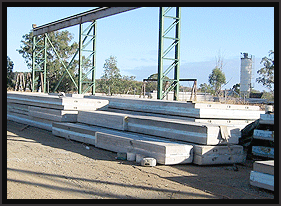 For better production efficiency and economy, the design should include a module width system of 2400mm so that the number of non-standard panels can be kept to a minimum.
The technology allows for the production of highly complex products by incorporating structural, architectural and thermal requirements of the building. The picture (top right) shows a non-standard panel that accommodates door opening, concrete corner return element and galvanised seating plate, by maintaining an uninterrupted insulated property for the structure of the panel.
The system distinguishes between internal and external panels to provide structural adequacies for the requirements of the internal load bearing and non-load bearing walls, as well as the external load bearing walls without compromising on the accommodation of the required thermal properties of the structure.